Dig it! 05 - Oblique « Death canal » (2013)
Imaginez. Un mix qui vous conduit de Somatic Responses à Xanopticon via 35 autres projets tout aussi captivants. On ne va pas se mentir, c'est ça qu'on aime vraiment.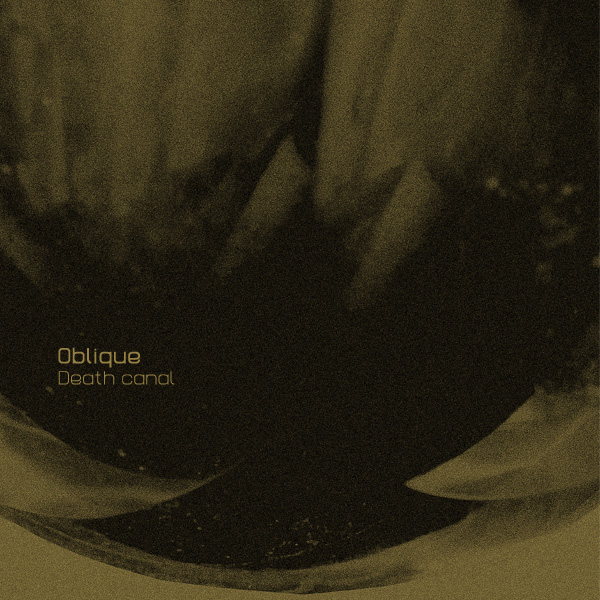 Affranchi des contraintes techniques par l'outil numérique, DJ Oblique se fait en effet remarquable par sa capacité à mobiliser les plus audacieux trafiquants de rythmes, les savants manipulateurs de fréquences, les forgerons de l'immatériel, les bûcherons du groove.
Des spécialistes reconnus de longue date – les gallois ou l'américain suscités – mais aussi Richard Devine, Bambule (aka Cindytalk sur Praxis !), Bombardier, Ultradyne ou Roger Rotor. Des artisans désormais bien établis (Mondkopf, Scotch Bonnet, Ancient Methods – dont le style à la fois massif et lascif, a rénové le genre depuis 5 ans). Et surtout des nouveaux venus, bien décidés à en découdre (DJ Die Soon, Clipping., Shadows, Ontal, Hosmoz…). Toute une armée secrète de freaks sous perfusion de hardbeat, accros au vacarme des machines, dévoués à la danse. Car c'est bien ici ce qu'on vous propose. Et vous vous en rendrez très vite à l'évidence. Dès les premiers crissements, le corps tressaute. Le mouvement irrépressible ne s'arrêtera plus pendant une heure et quart. Fusion industrielle, hip hop en phase de rupture, éruption d'électrons, jets de cristaux liquides, accidents digitaux, pilon technoïde, harmoniques incandescentes, itérations mécaniques, le tout à un tempo qui n'en finit pas de grimper, sans jamais s'essouffler.

Ardente, magistrale sélection qui vous conduira certainement à mettre à la corbeille bien des sessions aussi flemmardes que surmédiatisées… Mais trêve de polémique inutile. Le moment est plutôt propice pour brancher le caisson de basse et pousser l'ampli. Oblique aux commandes.
Tracklisting :
Somatic Responses - Dron [VC09.4]
DJ Die Soon - Anesan Megane [-]
Covered in Sand - Heaven's Gate Suicides [MIRA 003]
clipping. - story [-]
Richard Devine - Block, Variation [SCH015]
clipping. - face [DBA118]
Broken Bone - The Midwife [-]
Bambule - Trip Wired [Praxis 29]
Ultradyne - Primal Oppressor [PGM-009]
TVO - Naufana (Covered in Sand interpretation) [B6025]
Fishermen - Isopod [SKUDGE-W01]
Ancient Methods vs Kareem - Dämmerung der Parhelia (Ancient Methods interpretation) [FONDATION SONORE 01]
Derlich - Subversion [Sin017]
Mondkopf - No Icons [TPT057]
Bombardier - Cataclysm [D13.S01]
Ugandan Methods - A Cold Retreat [BKEDIT001]
Datacrashrobot - Path Dependence [BTRY'027]
TR//ER - UC [BROS001]
Ontal - Output [DRKFLR002]
Scalameriya - Summoning Sequence [GENESA001V]
M-Syndicat - Shenyang Dark Sword [MS07]
AnD - 0101 [AND001]
Shadows - Where There is Only Light [AVN #006]
MPIA3 - Your Orders [RS 1211]
Roger Rotor - Astore Coddaventu [act 284]
Stormfield - Collapsing System (Errorbeauty remix) [COMBAT033]
Hosm0z - Zarnica (feat. Spazmic Systems) [BR039 / dboy11]
The 15 Dead Minutes - Fibril [TR035]
Amit - Acid Trip [TEMPA073]
Fausten - Evisceration [adn167]
Microbes - Welcome to Harwich International (VORRS remix) [EDIT002]
Sensational & DJ Scotch Bonnet - Livewire [SBH 002]
Devilman - 21Seiki Dub [C_C remix] [MURCD-021]
Swarm Intelligence - Fouosoc [ACRED11]
Separation Device - Sentient Extractor [CRL038]
Xanopticon - Suicide [MSADV 0.01]
C Mantle - Djaevn [-]
Somatic Responses - Folly Fonk [DI.II]
A Dying User - 09 [ACREFREE2]
Xanopticon - Hierodule [pflicht 050]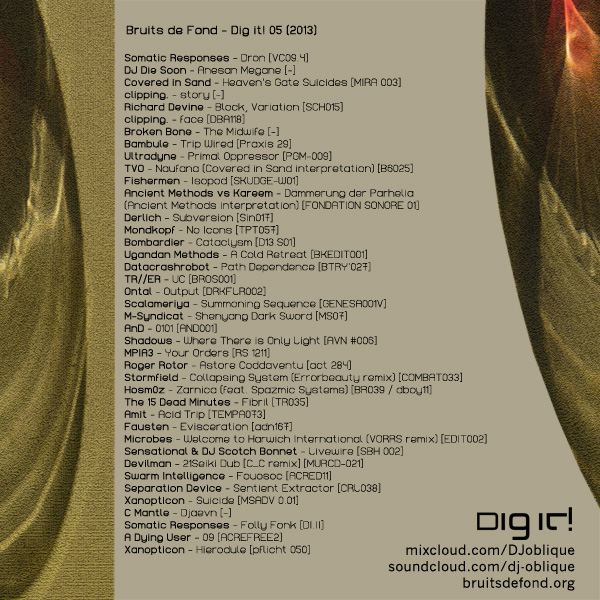 Artwork : MoA
Liens :
http://www.mixcloud.com/DJoblique
http://soundcloud.com/dj-oblique
Reviews :
Flies With Vinegar is the 1th and Death Canal the 5th mix in the Dig it! digital mix series on French experimental hard electronics label Bruits De Fond. Dark industrial techno and bass music,broken beats and rhytmic noise,some rap parts and so called breakcore thrown in too, flawless mixed as always by DJ Oblique who makes the balancing acts between vinyl and digital releases and puts it together to a well selected mixture. He also released earlier mixes on Planeta Modular where Gunter Saxenhammer made the last contribution so far with his Mix from 2012. A perfect DJ aswell, he mixed an excellent selection of hard, experimental, broken electronic music. A good example of the power and diversity of this in most parts undefinable music.
Zombieflesheater - Datacide